It is apparent that most bloggers still can't make much money from their blogging efforts. Why? Because they don't know which monetization model they should follow. If you are also struggling with the same problem, Infolinks can help you.
Infolinks is a top notch advertising program, which offers a number of advertising products for all—advertisers, publishers, and organizations. Started in 2007, Infolinks has garnered the tag of the best advertising platform for bloggers.
The Way Infolinks Works
Adsense didn't give you an approval? Use Infolinks and have everything made easier than ever.
With no strict policies or rules, it's so easy to get Infolinks approval as opposed to Adsense from whom you need to wait for many days to get a single reply. Also, with Infolinks, you don't need specific widget boxes, since Infolinks relates targeted keywords and ads, and then links your keywords to most appropriate ads automatically.
Furthermore, Infolinks delivers several ad products to augment user engagement and overcome banner blindness on your blog. You also don't need to wait for a long time to withdraw your funds, because Infolinks has made it easy for you by means of PayPal, Echeck, Payoneer, Western Union, Bank Wire, and ACH.
Types of Ads Infolinks Offers
The types of ads that Infolinks offers are the following:
Infold ads—this ad unit is the most converting ad unit of Infolinks. The popping ad units related to the keywords in your content and as per the queries searched by the user are displayed. A fully unobtrusive ad unit for publishers, infold is a popping and floating banner that improve your SERPs ranking and decrease your bounce rate. In addition, this ad unit is perfect for enhancing user engagement on your blog.
Intext ads—intext advertising is the most prominent advertising presently. Infolinks puts hyperlinks of the most apt ads on the relevant keywords on your blog. And you get to make money for the views and clicks, whenever a reader hovers the mouse over the hyperlinks. This ad unit is completely customizable, which signifies that you can choose your own colors and choose the number of intext hyperlinks to boost your rate of conversion.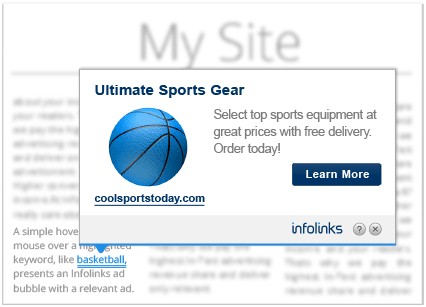 Intag ads—intag analyzes the top keywords on your blog pages and display appropriate ads with respect to those keywords as an attractive tag cloud. You can even create a custom tag cloud to increase the average time that is spent on a page.
Inframe ads—this ad unit is the most user winning ad unit for your website. Infolinks displays inframe ads by using the unused spaces like margins on your web pages. These ads are the floating ad banners that augment user engagement on your blog, as well.
A quick process of getting started with Infolinks
Step 1: Go to Infolinks and click the Join Us button. Enter all the requisite details including your username, password, website URL, and others. Infolinks will let you know whether they have approved your application or not within 24 hours, after reviewing it.
Step 2: Visit the Infolinks dashboard and start creating ads after your application has been approved. Click Integrate after logging in. Infolinks provides integration facility for all primary CMS—Blogger, WordPress, Joomla, and Drupal.
Step 3: Create ad units and start monetizing your blog. Visit the Infolinks dashboard and click the Customize button.
Infolinks Referral Program
You get to make more money with Infolinks Referral Program. You simply need to sign up for Infolinks Referral Program and then you need referrals, the people who would use your link to sign up for Infolinks. Then, you will be paid 10% of whatever amount your referrals make during the first 12 months.
Conclusion
Infolinks is worth every try, considering it lets you make money easily without any hassles, and you don't even to wait for extremely difficult Adsense approvals.